Management Bios
THE FACES BEHIND GASBGON (Yes, we're real people like you):
Sharron Huza, Co-Founder / President
"Behind every successful man there stands a long-suffering woman holding her nose." Just kidding. Although the concept of the GasBGon flatulence filter seat cushion began as a Final Project idea for Sharron's college marketing course, it was not because she saw her husband Jim as part of the problem. She saw him as part of the solution. Which, when they put their heads together, turned out exactly as she had thought. Sharron is not really surprised. As Native Canadians, fresh air is second nature to them. And now it can be for you too...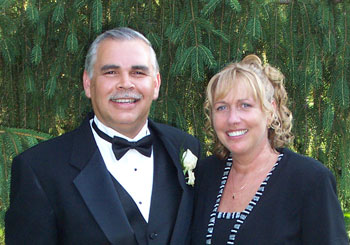 Jim Huza, Co-Founder / Vice President
Flatulence is a guy thing. So, of course, it would take a guy to take flatulence as seriously as, say, college football. Well, Jim is our GasBGon Guy. He spent more than 25 years in the field of applied air filtration technology. In other words, his nose Knows. Basically, his approach to flatulence control is inspired by Albert Einstein, who said, "We should make things as simple as possible, but no simpler." Jim doesn't know if Einstein suffered from excess gas, but he knows the GasBGon flatulence filter seat cushion passes Einstein's "Keep it Simple - But No Simpler Performance Test...
Jim, Sharron and their three children reside in Greenville, NC.